Today, WRI releases the first ever Willamette River Report Card.
We started thinking about a report card for the Willamette back in 2010, and began working on it in earnest about two years ago. Getting the finished product out into the world turned out to be a big lift, even with the help of a team of scientists from the University of Maryland and the knowledgeable and generous assistance of over 25 university, agency and technical experts from Oregon. We're excited to finally be able to share it with you, and hope you'll share it with others.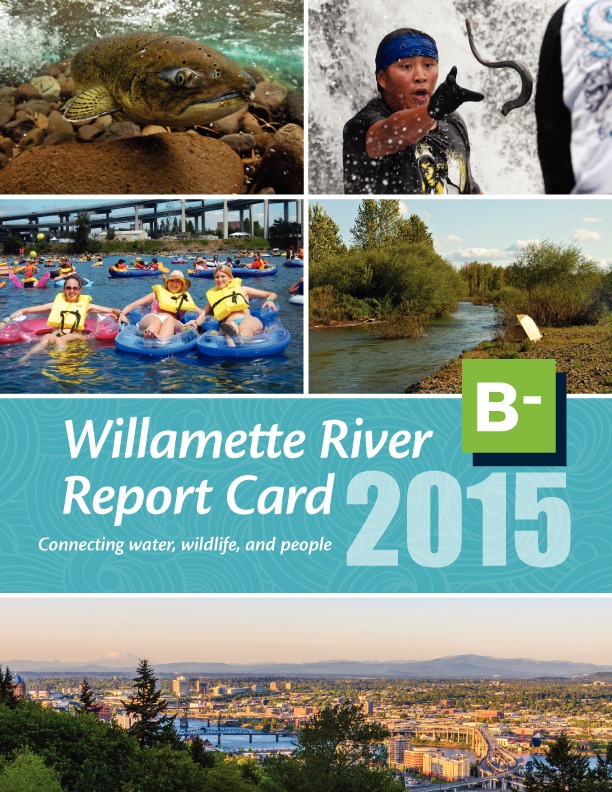 Our goals for the report card are to better understand the ecological health of the river, capture a current picture against which to measure future change, and share the story of the Willamette with a broader audience. That last part seems especially important now, as Oregon's population crosses the four million mark and we begin to understand how a warming climate will affect the river.
The Willamette's overall grade - the grade that rolls up the 15 variables analyzed by the experts - came in at a B-. That's good news for the river. Only 50 years ago, it was highly polluted and considered unusable by the public. But Oregonians never gave up on the river, and the efforts of citizens, scientists, non-profits and the public sector have led to significant improvements in its health, especially water quality. The river is now almost always clean enough to swim in, bald eagle populations are doing well, and native fish species outnumber non-natives. These are all things we can celebrate.
But we still have a ways to go. Summer water temperatures are too warm for salmon and steelhead, and authorities advise limits on the consumption of resident fish species like carp and bass due to mercury and other contaminants. The Superfund site needs to be cleaned up.
We also need to fill some key gaps in our knowledge about the river. Data is limited or non-existent for some important river health indicators, and targets haven't been developed for others. We need to know more about the impacts and interactions among some of the chemicals and other substances that find their way to the river. It would be great to have similar scorecards for the Willamette's tributaries.
In short, we need to keep investing in the Willamette - in its health, in our understanding of it, in the groups that are working so hard, and with so many partners, to maintain this positive trajectory. Let's not be complacent - let's be inspired.
See the Willamette River Report Card, learn more and get involved at www.willamettereportcard.org.